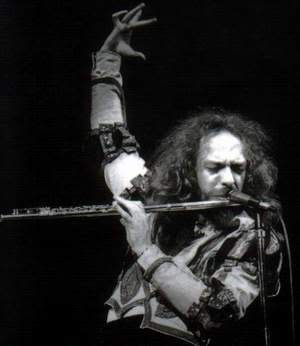 In a
review of Jon Fogerty's concert
to close out the 10-day Musikfest in Bethlehem, PA, Express-Times writer Joseph P. Owens complains that Ian Anderson and 1989
Grammy Award
winners for
Best Hard Rock/Metal Performance
, Jethro Tull, chose not to play Aqualung during their earlier show at the festival. I have mixed feeling about a classic rock artist choosing not to play their biggest hit at a show. Part of me respects that Ian left the song out. After all, isn't it more special if it doesn't come out
every
night. But, don't get me wrong, if I was in that audience, I'd be pissed.
Have you ever read the lyrics to Aqualung? Well, I just did and I wish that I hadn't. The verse begins:
Sitting on a park bench -
Eyeing little girls with bad intent.
Snot running down his nose -
greasy fingers smearing shabby clothes.
Drying in the cold sun -
watching as the frilly panties run.
Feeling like a dead duck -
spitting out pieces of his broken luck.
How...artistic??!?