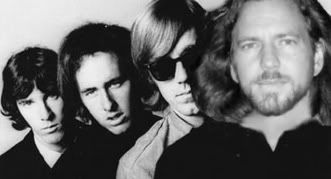 Estranged Doors drummer John Densmore says that he would reunite with his former bandmates if Pearl Jam's Eddie Vedder agrees to front the group. Densmore says, "I play with Jim. If there's someone of that level, OK. I'm not gonna join them with Ian. That's not to diss Ian, he's a good singer - but he's no Jim Morrison. Eddie Vedder? My God, there's a singer."
Asked if he'd perform with his bandmates if Vedder was on board for shows, the drummer adds, "Probably."
This is
probably
one of the coolest stories I have read in a long time. Do I think it will actually happen...nope, but I would definitely be there to witness it if it does. Seeing Eddie growl through hits like "L.A. Woman" or "Roadhouse Blues" would be amazing.
Read the article
here