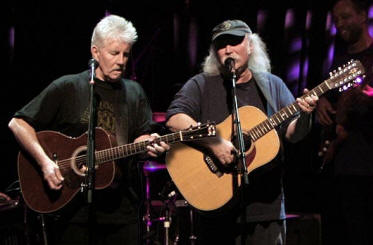 David Crosby and Graham Nash have cancelled their upcoming tour because David Crosby has taken ill. The duo's manager Donald Miller posted on the official crosbynash.com website that the tour is being pushed back due to "medical issues that have arisen" for Crosby. He went on to say that, "We deeply regret that the band will not be able to embark on this tour as scheduled. At this time, we thank you for your understanding and the band looks forward to seeing you this fall."
They weren't coming to a location near me, but I was really excited about this tour anyway. I went to see CSNY at Nissan Pavillion in VA last summer and I was really blown away at the quality of musicianship on the stage. Neil Young certainly drew most of the attention, but I found myself captivated by the Crosby and Nash led songs. They are both such talented songwriters and performers, capable of conveying incredible emotion. The highlight of the show for me was being able to see one of my all-time favorite songs performed live, Crosby's "Almost Cut My Hair."
Get Well Soon Dave...
Almost Cut My Hair
David Crosby (Solo Acoustic)
1991