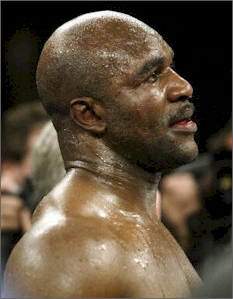 I guess Dancing With the Stars just wasn't enough for him. Former heavyweight champion of the world and current friend of MC Hammer, Evander "Real Deal" Holyfield, won his first fight last Saturday night after coming out of retirement at the age of 44. If George Foreman can do it, I don't see any reason why Holyfield can't come back at this age. I mean, how long can this really last, but I'm going to enjoy watching it. I will even root for him.
Holyfield's promoter, Kathy Duva, has him lined up to fight again on June 30 in Canada and expects a title bout to follow in the fall.
Current Holyfield trainer Ronnie Sheilds is quoted recently as saying:
"You can look at tapes of him before Saturday -- I'm talking when he fought Tyson ['96, '97], and go back further than that, when he fought Riddick Bowe['92, '93, '95]," the trainer said. "And then you can look at him Saturday night. You saw the same guy. He was exciting. I don't think anybody in the crowd was disappointed.

Point of fact, as I watched a tape of the bout on Monday, I fixed on a sequence late in the first round. Holyfield put together a multi-punch combination and I needed to use the super slo-mo on my DVR to count how many blows he threw. For the record, it was a six-punch combo he unleashed to cap the first, and that sort of activity would be a pesky slew to negotiate for several boxers who hold titles right now."
So this being a music blog and all, I was trying to come up with a song that I could send out to EH as he travels the comeback trail. A song that would really motivate him to work hard, train hard, and fight hard. And I came up with the perfect song (and video).
This one goes out to the best around, my boy Evander.