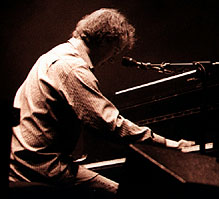 Phormer Phish Pianist Page McConnell is bringing a few new companions on this ride.
Page will hit the road at the end of May for a string of dates, dipping into mid-June. The tour begins with a hometown show at Higher Ground in South Burlington, VT and will make stops across the east to the mid-west at favorites such as Atlanta's Variety Playhouse and The Vic Theatre in Chicago. Tourdates are below. For ticketing info, please visit pagemcconnell.com.
Page's band includes Adam Zimmon, Jared Slomoff, Rob O'Dea, and Gabe Jarrett. Tickets will be available through a real time presale beginning Friday, March 30th at 5:00pm (Eastern Time) and ending Friday, April 13th at noon (Eastern Time) at http://pagetickets.rlc.net.
PAGE MCCONNELL MAY/JUNE 2007 TOUR
05/30 - Higher Ground, Burlington, VT
05/31 - Avalon, Boston, MA
06/01 - Lupos, Providence, RI
06/02 - Theatre of Living Arts, Philadelphia, PA
06/04 - Irving Plaza, New York, NY
06/05 - 9:30 Club, Washington, DC
06/07 - Variety Playhouse, Atlanta, GA
06/08 - The Orange Peel, Asheville, NC
06/09 - Bogarts, Cincinnati, OH
06/10 - The Vogue Theatre, Indianapolis, IN
06/12 - Majestic, Detroit, MI
06/13 - The Vic Theatre, Chicago, IL
06/14 - Pantages Theatre, Minneapolis, MN
Source: phish.com
Take a listen to my favorite Page song, from the catalog of Phish, 'Strange Design':